HIRE
This is the place to buy custom art of your character or ideas, professional art to use in projects, and full blown animations. If you are interested in hiring me, please send an email and include the details of what you want so I may quote a price. If you are buying many pieces of art at once you will get a discount.
Licenses: If you want to monetize a video that uses one of my animations, I sell licenses to small creators for $10 or 20% of the revenue made after two months, whichever is more. That means you must earn at least $50 for the percentage to kick in. You can monetize your video for free if it's a clear case of fair use, like a critique or review. If your video is non-monetized, you can do almost anything you want for free! No reuploads, compilations, or translations (ask me first).
STILL ART
Sketch: $20+
Character: $55+
Illustration: $75+
Background: $65+
ANIMATION
Mini Animation $55+
A short, simple animation as a GIF, SWF, or sprite sheet.

Animation Assets: Prices Vary
Props, animated backgrounds, animated intros, and fully functional puppet rigs designed for those who intend to make their own animations or videos.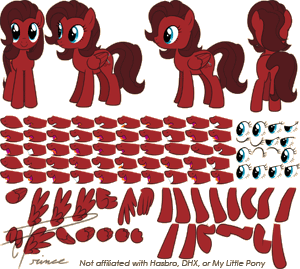 Storyboard: $100+
Storyboards start at $100 per 30 seconds of animation. They are basic sketches that change every few seconds to give the audience an inkling of what a full animation might look like.
Partial Animation: $300+
These start at $300 per 30 seconds of animation. They feature much less movement than a full animation. A partial animation may be fully colored but have fewer mouth movements and actions.
Full Animation: $650+
The base price for a fully animated video is $650 per 30 seconds of animation. This is just to give you a rough estimate of what your project might cost. There is a lot that can change to bring the cost up or down depending on your budget, what you want, and how complicated it is to make.